NEW! From the Riverflow Press - Special Antiquarian Reprints & Books of Unique Interest
We feature inexpensive, quality paperback editions of out-of-print books - books that are entertaining to read.

ETIDORHPA is a 19th century adventure which interweaves fantasy, science, secret societies, and hallucinogenic mushrooms! Lavishly illustrated with beautiful J. Augustus Knapp drawings and paintings. Newly edited (not abridged). To preview this incredible book CLICK HERE. Download FREE and read the first 85 pages of the story! CLICK HERE

HARMONIC LAWS OF THE UNIVERSE is a richly illustrated treatise selected from a famous 19th century book on color and design. The author explores the harmonies that exist in nature and art and their relationship to spiritual truths. To read more about this wonderful little book CLICK HERE.

VITALITY SUPREME, first published in 1915 and written by Bernarr Macfadden, an early "health guru" who was well ahead of his time in his understanding of whole foods and exercise, shows how to gain health and vitality through a series of unique exercises as well as diet, etc. This book is full of old photographs, mostly of Macfadden himself, demonstrating how to do the exercises. To read more about this classic book on health CLICK HERE.

THREE GREAT REMEDIES OF NATURE - another very early Macfadden book. This book covers fasting, exercise, and hydropathy (water therapy). "Three Great Remedies" is also richly illustrated with many old photographs. (Note: original copies of this book are highly collectible.) To read more about the Riverflow reprint CLICK HERE.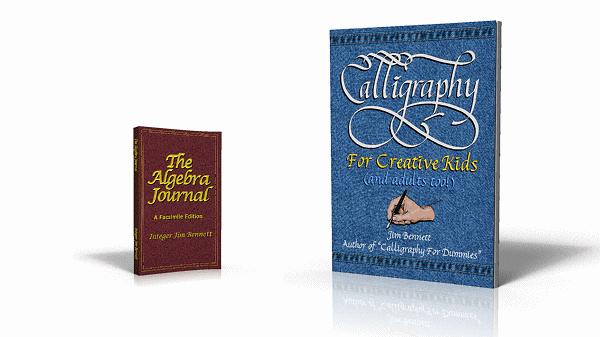 The Algebra Journal is a facsimile of a handmade 210-page journal which can be used by teachers as an example to inspire students to create similar journals. It has 4 types of content: Instructional content, researched math topics (history, biographies, and topics of interest), Diagrams, charts, and illustrations, Pages of the students' choice math-related topic. For details and a preview of inside CLICK HERE.
Calligraphy For Creative Kids (and adults too!) is a simple, how-to, instruction book, written mainly with children in mind but will teach anyone of any age how to become an accomplished calligrapher! The book, penned entirely in a calligraphic hand, begins with an explanation of how to select the right pens, inks, and paper. Then it introduces the Italic alphabet, a beautiful and highly versatile alphabet. Next, are examples of Italic flourishes and sections on Blackletter (particularly useful for certificates) and drawn letters. The book ends with an impressive list of creative projects. This is a simple, straight-forward and profusely illustrated calligraphy practice book. The author, Jim Bennett, wrote Calligraphy For Dummies. To see more CLICK HERE.